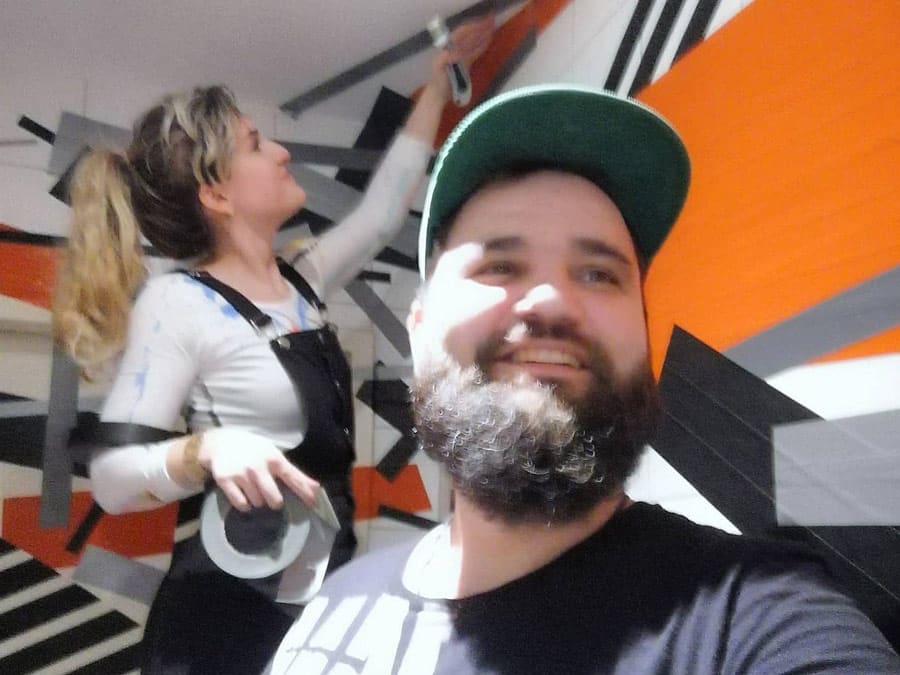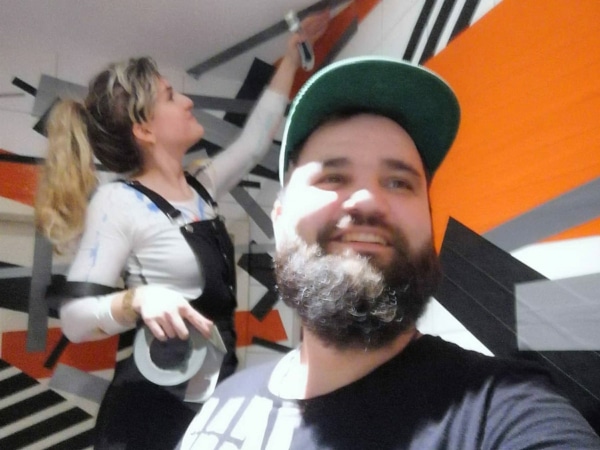 Slava Osinski- Ukrainian artist? (biography and explication)
Bio:
Vyacheslav "Slava" Osinski was born in Ukraine (USSR) in 1978. There he studied art and learned the techniques of drawing, linocut and printing.
In 1993 he began studying architecture.
In 1995, Slava and his family emigrated to Germany as quota refugees. As a result, he had to abandon his studies.
In Germany (Lübeck) he was taken to a camp together with the other returnees. There he faced aggressive rejection and was plunged into an atmosphere of hostility and social hatred.
1998. Due to his poor health, he developed problems with hearing loss that progressively worsened.
In 2003 Slava moved to Berlin.
From 2004 to 2007 he studied printing technology. (He did his training as a printing technician) During his apprenticeship, he worked in an offset printing company, then for two years in a design studio as a manufacturer of advertising materials.
He was constantly painting.
Due to his hearing loss, he had to give up his work in the production plant and in the team.
In 2009 he met the German minimalist Stefan Müller. Soon this acquaintance turned into a friendship. Slava began to grapple with the problems of contemporary art.
In 2010 he started his own creative path and registered as an independent artist.
He has been active as a street artist since 2011 and defines his credo as a self-taught adventurer who opens up new possibilities and visual techniques. Vyacheslav's first stencil works on Berlin streets appeared under the pseudonym "Ostap" (Ostapchenko).
In 2013 Slava became a resident at the Urban Spree gallery and got his first studio. In the following two years, he was able to realize his ideas there. During this time, Ostap produced several series in urban areas:
"Spree Can", 2013-2018; "Spreewald Underground", 2013-2018; "Art is…", 2014, "FAQlove", 2013-2015; "Indulgence" 2013-2014.
2015. In order to be able to participate in legal projects, the artist invented his own "brand": The Selfmadecrew. Since then, he and his crew have taken part in exhibitions and commissioned projects.
A short explanation of the Slava Osinski artworks (Explication)
TAPE ART (Art made of adhesive tape)
2010 Inspired by the minimalist works of his friend Stefan Müller, an object emerges from two stretcher bars connected like chain stretcher frames.
In 2011 he starts working with coloured duct tape according to the motto: "adhesive tape instead of paint."
In 2012 he creates his first parametric adhesive tape constructs with light and shadow effects.
In 2013 Ostap discovers the use of the stencil principle to produce "stained glass window" art from packaging tape on glass or lightboxes.
He continues his spatial experiments with adhesive tape.
2015. When experimenting with adhesive tape and the working principle of a monochrome screen, he opens up new optical effects.
STENCIL & SPRAY ART
Ostap prefers the stencil technique because, as an ancestor of printing, it is one of the oldest methods of image transmission and reflects the international language of pop culture. In an urban environment, this fast and reusable method of image transmission resembles a magical, ritual action.
Like many of his artist colleagues, he plays with the cult symbols and characters of pop cultures: East-West; Male-Female; Cucumber-Banana (Andy Warhol); Cheburashka — Mickey Mouse, Rat…
Ostap's artistic strategy is to archive his stencil graffiti by creating unique prints on canvas.
Ostap takes up the themes of the modern media landscape through his rather simple but concise motifs: Politics, religion, love, globalization, sexual and urban culture, and employs them with cynical humor, directly and provocatively. The artist also makes sure that his works are somewhat ambiguous in meaning. Often Ostap's figurative art evokes feelings in the viewer, both positive and amusing, stimulating, agreeing, and on the contrary, rejecting the artist's personal, subjective views on life. Is he a cynic, romantic, or critic? Ostap leaves this decision to the viewer.
Ostap often combines different techniques and works with unconventional materials. He always tries to create something new, like for example his works with optical effects, which were created by using raster-nets or fluorescent and UV inks.
Through the use of dotted nets as stencils and his examination of the perception of the dot pattern with the eye, a series of optical illusions are created on the canvas.
In regards to art history, Ostap is interested in artists such as Van Gogh, Klimt, Warhol, and Banksy: these artists have become myths whose names began to work independently and set a new way for future art. His artistic method is the upcycling of modern and classical representations and interpretations.
Starting in 2018, Ostap creates a series of bas-relief self-portraits on the streets made of duct and gaffer tape. He uses the technique of domestic, misappropriated use of the material.
Ostap currently lives with his wife and two daughters in Berlin and continues to be active on the street, while also working with museums, and participates in artistic, social, and commercial projects. He interacts with clients in a new context.
Author: Alexandra Kriksunova.
Links (Press)
About Selfmadecrew profile on the Urban Nation Museum website: Link.
About Ostap profile on the Urban Nation Museum website: Link.