Exhibitions and Art projects (CV)
2019
Mural artwork at JVA-Plötzensee prison. Berlin.

Artwork for the collection of the Street Art Museum St. Petersburg (Russia).
2018
2017
2016
2015
"

STILL LIFE

" – Group Exhibition at "

Artgeschoss

" Gallery.

"24 HOURS DRAWING CHALLENGE" – Event and Group Exhibition at 

Neurotitan

 Gallery Berlin.

"LOVE" – Group Exhibition at "Artgeschoss" Gallery Berlin.
2014
"

Berliner Liste 2014

" – Ostap's artworks at Group Exhibition "Berliner Liste" during Berlin Art Week 2014.

Mercedes Fashion Week Berlin – Stage design with adhesive tape for fashion designer Alexandra Kiesel Show on .
2013
Groupshow at Affenhaus Gallery. Hamburg (Germany)

.

Project "Showcase" – Groupshow at

PLATOON

 Berlin.

Graffiti Convention 2013 at NSA Listening Station, Teufelsberg-Berlin.

THE CIRCLE SHOW

 – Group Exhibition at Urban Spree Gallery Berlin.
2012
Artist r

esidency at Urban Spree Gallery Berlin (Until 2014).
Links (Press)
About Selfmadecrew profile on the Urban Nation Museum website: Link.
Artist's profile on the Urban Nation Museum website: Link.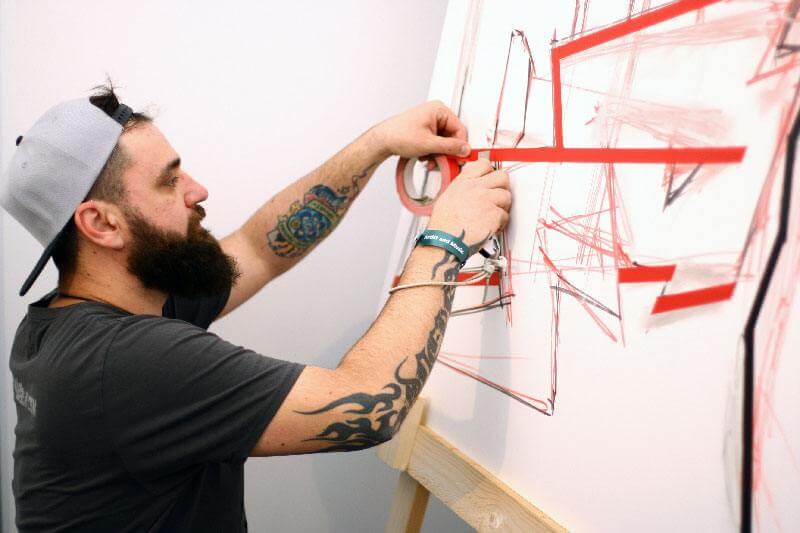 Berlin Artist
My name is Slava Osinski and I am a Berlin-based tape and graffiti artist. In the last few years, I was busy with tape art (art made from adhesive tape). Both two-dimensional and three-dimensional paintings, art objects, and installations. For my art out of adhesive tape, I mainly use two types of tapes: colored duct tape (GAFFA, fabric) or packing tape. Often I use other forms of urban art – for example, street art like stencils and graffiti. With that, I also explore the shoals of this kind of street art.
I let myself be inspired by places and spaces and try to create something new through every image, every installation. Many of my works combine social, political, social, and religious issues. Nevertheless, I never try to make my work seem heavy or painful – they often radiate mischievous humour and are ironic, sarcastic, and satirical. Among other things, I also accept commissioned projects and offered tape art, and graffiti workshops.
That excites me on the tape
The ideas materialized with tape are, in my opinion, always fresh and seem unexpected. The tape gives the old man a new form, which awakens undisputed interest in the viewer. This allows me the inner meaning of the work to present the hidden address to my contemporaries usually quickly and accurately. Apart from that, I would like to remind people of the long-forgotten or draw attention to what is acute nowadays.
Is it art — or can I chuck it?
As a tape artist, I try to stay innovative and rich in ideas. I try to create art where nobody would expect it: at windows, in huge halls, on streets, or in parks. The result is simply breathtaking and unique. But why just adhesive strips? Why not classical graffiti, which he also well mastered?
"Art from Adhesive tape is at the start of its development and has not yet been contaminated by stereotypes. This technique, therefore, offers a wide field for action, experiments are very welcome, and that is close to my heart. "- says Ostap in an interview. In addition, there are many different varieties of tape, you can keep them well and do not bleach."
With adhesive strips, you can easily and effectively realize your vision. There are no limits to creativity. And if the whole thing no longer pleases, it can be removed easily and without residue.